¡@

TTD-308
Meat Tenderizer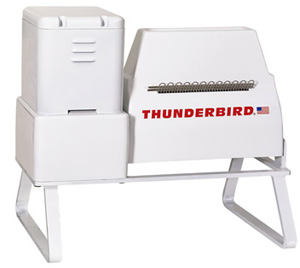 Design

Finally, we have introduced a tenderizer that is brand new to the market because our meat tenderizers live up to Thunderbird's HIGH quality standards! Specially designed with multiple, razor sharp, heat treated, high strength, stainless steel knives that tenderize meat by surgically cutting through the connective tissues that cause meat to be tough!"

Features
Tenderizes meat without loss of nutrition, freshness or loss of shape!

Compact size well suited for medium or large meat processing shops, steak house restaurants, butcher shops or even at home!

Powerful motor, yet quiet and vibration free!

Waterproof electrical switch provided for safety.

Tenderizes meat up to 1.5 inches thick!!

Multiple Heat treated, Stainless Steel Knives.
Spec Sheet
Motor
1/2HP, 20AMPS
Electrical
115Volts, Single Phase
Speed Range
Beater: 40-142
Hub: 97-350
Capacity
Up to 50lbs per minute!
Cutting Group
Std. #12
Approval
CE, NSF, ETL
Product Dimensions
20.1"x11.5"x20.8"
Weight
58lbs (+10lbs = shipping weight)


¡@
We reserve the right for any technical specifications changes without notice.